HOW TO CHOOSE THE RIGHT KITCHEN KNIFE
To prepare impeccable food, you need the right tools for the job. Without question, whether you're a professional chef, a home cook, or somewhere in between, your knives are the most important tools in your kitchen.
Whether you're ready to add to your own collection of Japanese knives, or simply looking for a place to start, this guide will help you make the right choice. We've categorised the Global® collection into 8 types to make it easy for you to choose the right knife based on your cooking requirements. We explore chef's knives; utility knives, bread knives, paring knives, meat and fish knives, carving knives, vegetable knives, santoku knives, sashimi knives and cheese knives.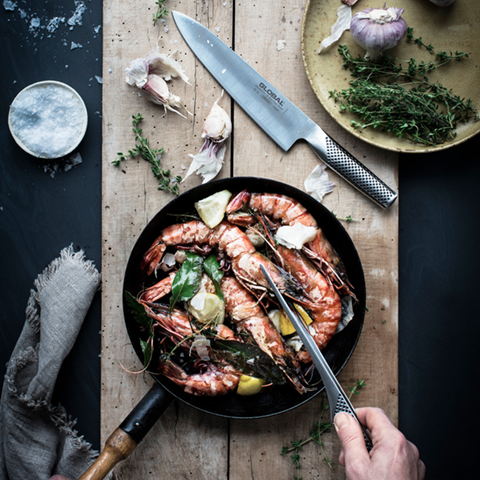 CHEF'S KNIVES
The chef's knife is the workhorse in the kitchen and is used for general cooking tasks. It is the first knife we'd recommend to start your collection. This knife is useful for making classic cuts and can be used to prepare fruits, vegetables, meats and fish. A good chef's knife will without a doubt change how you feel about cooking altogether.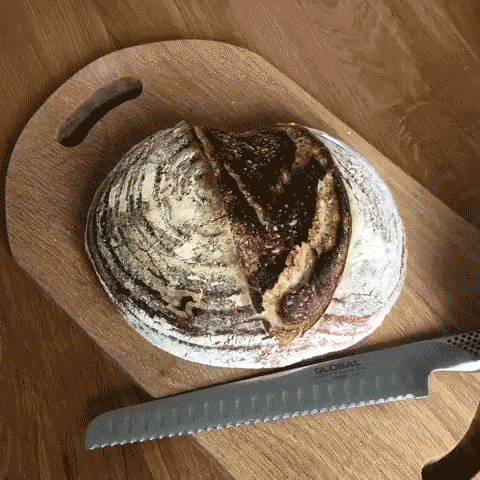 BREAD KNIVES
The serrated slicer of the bread knife is made for foods with a tender center, yet a firmer 'crust', like, yes you guessed it, bread. The blades of Global® bread knives are straight and strong so each cut of a loaf, bagel or baguette is exactly the thickness you want it. Bread aside, this knife can also be used for cutting and serving delicate desserts with flaky pastry or meringue.
MEAT & FISH KNIVES
Smash through bones, prepare cuts of chicken, chops and ribs, and fillet most popular types of fish like trout, salmon and yellowtail. Global® meat and fish knives are designed for heavier cutting work. These knives are used for slicing fish and meat as well as for chopping smaller joints and poultry. Some knives from this range can also be used for particularly heavy vegetables like butternut or pumpkin, where a smaller knife might get stuck.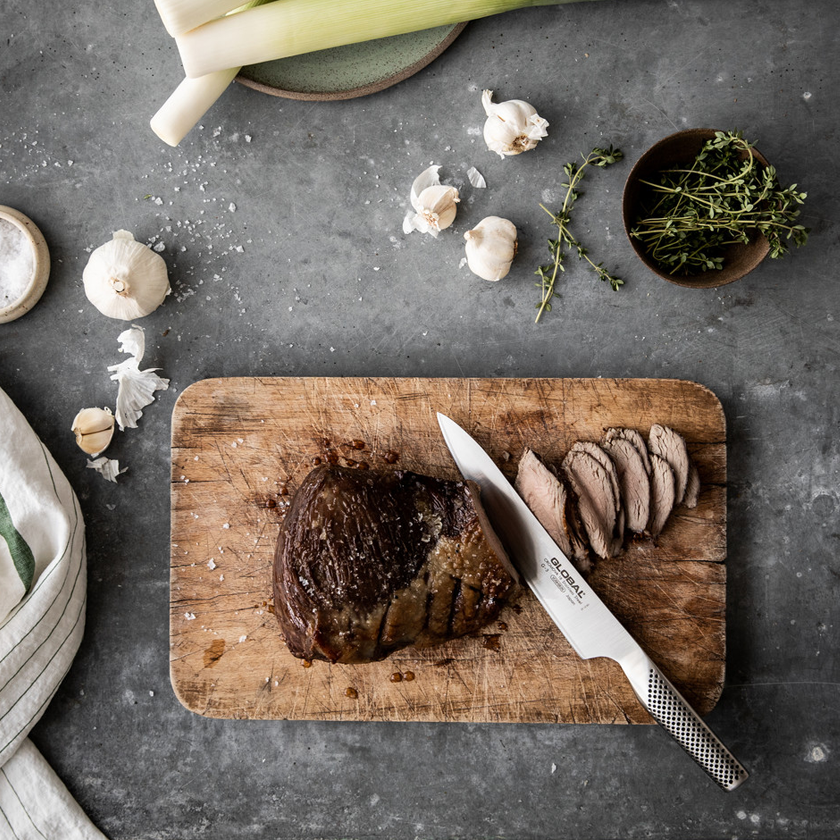 CARVING KNIVES
You've worked hard to make that tasty roast, now cut through it like it were butter with your Global® carving knife set. The two-pronged fork keeps meat still, while the long, narrow blade of the carving knife slices with ease. It is a great set to have in the kitchen and honestly makes any occasion much better. If you enjoy roast, then you need this knife set.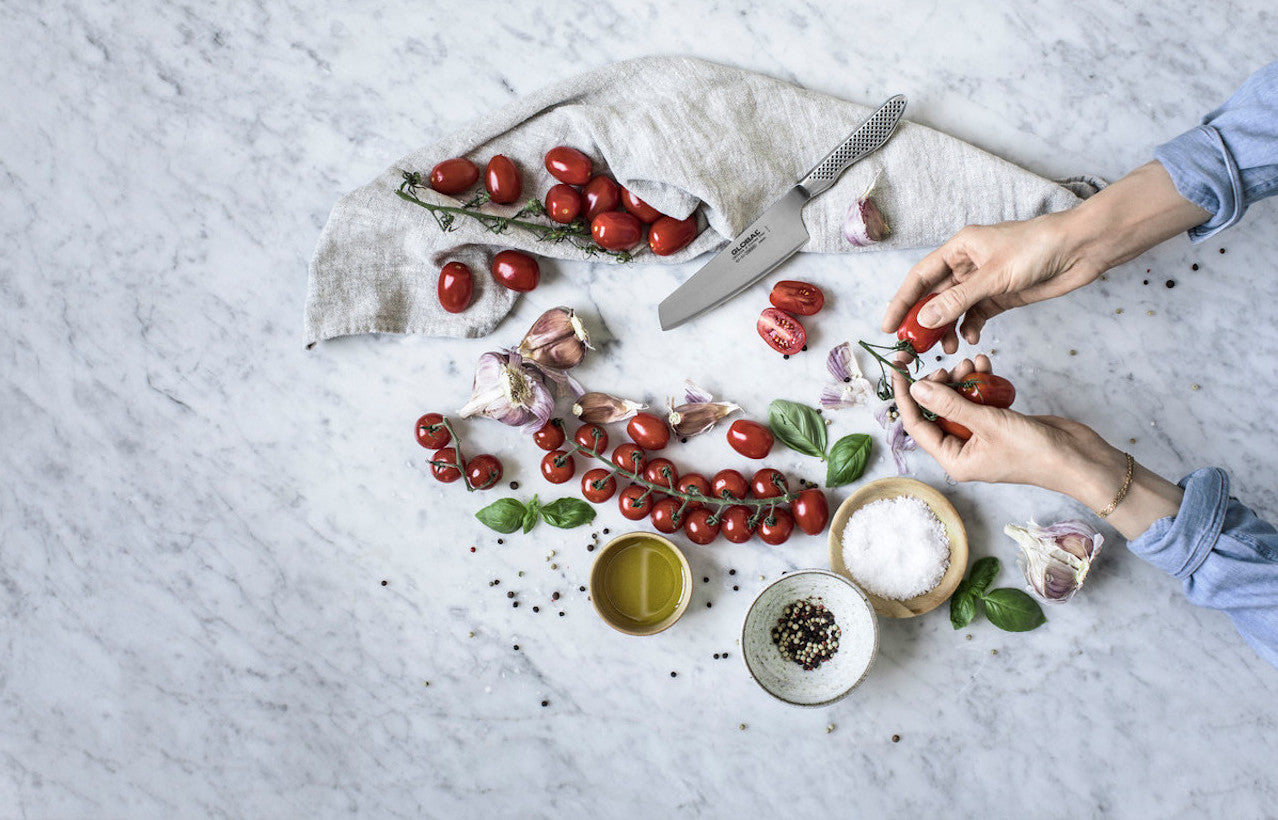 VEGETABLE KNIVES
These knives are praised for making easy work of heavy vegetables such as sweet potato, squash and beetroot. These knives take their inspiration from Japanese Usaba (Vegetable Knives) and is specifically intended for chopping vegetables. The relatively flat parts of the blade are designed to come into full contact with the cutting board with each stroke and create clean cuts of each vegetable.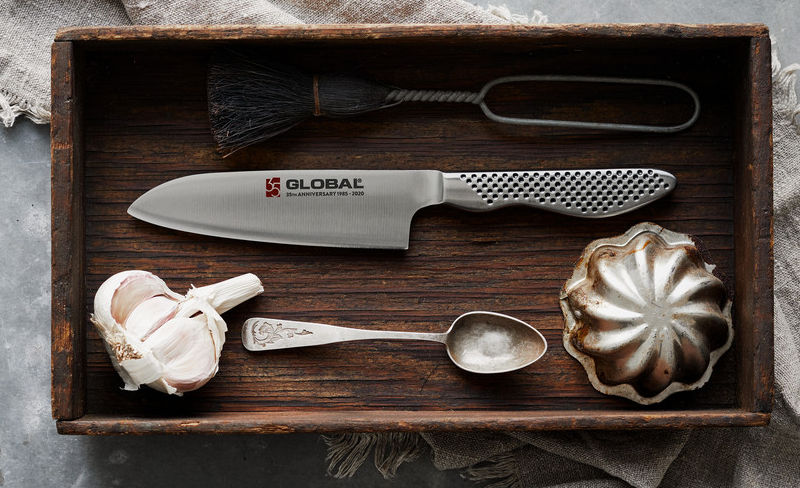 SANTOKU KNIVES
This is effectively the 'Japanese' chef knife. Santoku is a Japanese word literally meaning 'three ways' and is used to describe the three cutting tasks that the knife is designed to do namely; slicing, dicing and mincing. You'll use this knife generally for cutting up lots of heavy root vegetables, such as sweet potato and squash. These are also among the heavier knives in the Global® collection.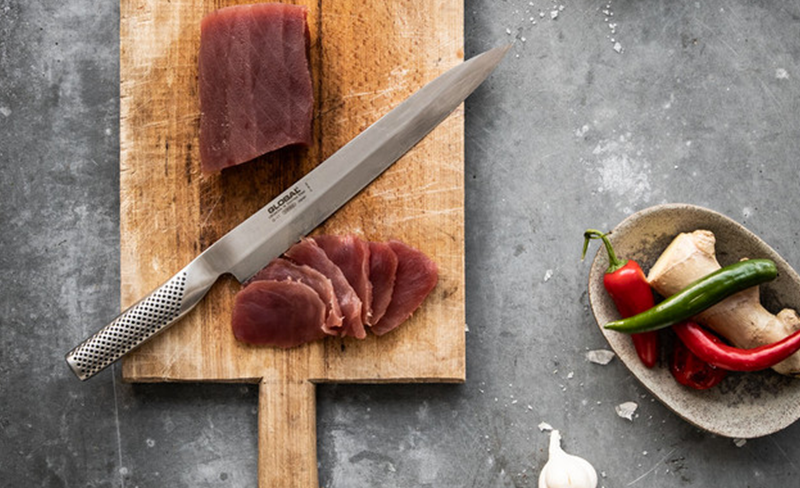 SASHIMI KNIVES
The thing about Japanese food, sushi and sashimi in particular, is its impeccable presentation. So neat, tidy, and precise. If you want to achieve the same results, then you need to arm yourself with a Global® sashimi knife! This specialist Japanese knife features a long blade to make long broad strokes and cut fish in one go. The single bevel allows more control over the thickness of the sashimi slices and ensures the cut is perfect for presentation.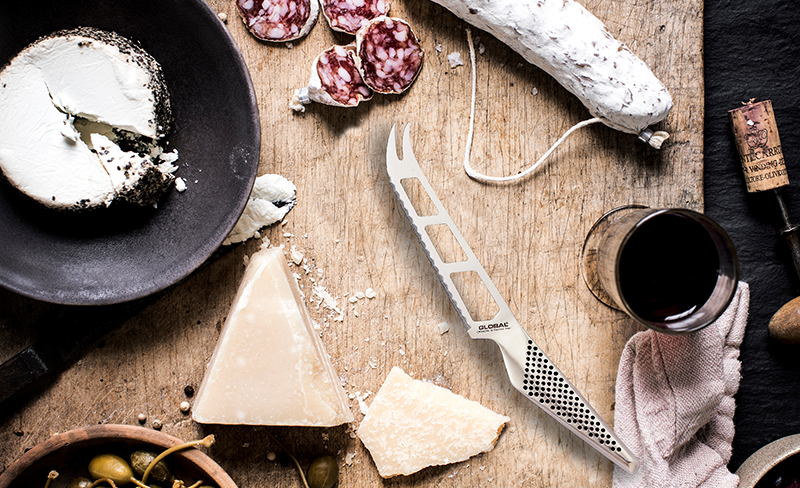 CHEESE KNIVES
The Global® cheese knife is a universal cheese knife and can be used for any kind of cheese whether creamy brie, classic cheddar or a strong blue. The holes on the blade are especially designed to stop cheese sticking, and the two prongs on the front of the blade make serving a whole lot easier.
STILL NOT SURE WHERE TO START?
HERE ARE OUR OUR SUGGESTED STEPS TO START, BUILD AND GROW YOUR GLOBAL KNIFE COLLECTION!
Regardless of what's in front of you in the kitchen, there's a Global® knife perfectly suited to chop it, slice it, or break it down. Crafted by hand in Niigata, Japan, the GLOBAL® cutlery brand is famous for its iconic design, new manufacturing methods and cutting edge performance.
Made to the exacting standards of Japanese craftsmen, these award-winning ranges have remained some of the most popular and successful professional kitchen knives for 35 years. GLOBAL is an excellent choice for both the discerning home cook or professional chef.