WHY INVEST IN A KNIFE BLOCK
Hey there chef!
In this article we explore the benefits of investing in a knife block, as well as feature a couple of GLOBAL blocks, with links to our webstore, should you wish to bring one home. You can explore the complete GLOBAL knife block range 
here

.
– – – –
Any professional cook will tell you that the quality and sharpness of the knives you use make all the difference in your cooking. A knife block offers a safer alternative to merely storing your knives in a drawer, and in doing so maintains their quality and sharpness.
With your knives neatly stored in a knife block, you have them handy and easily accessible at all times while cooking. This is a surefire way to cut down the stress in the kitchen. Although we know you can handle the heat ;).
Additionally, if you have small children, a knife block is a very smart choice to add into the kitchen because it brings the sharp objects up and away from curious hands – accidents happen :/.
Investing in a knife block ensures;
1. Your knives stay sharp and protected for longer
2. The fingers of others will be safe from harm's way
3. Your kitchen looks even more stylish
Knife blocks have slots designed to hold knives and other kitchen tools either vertically, angled, or sideways. They are all pretty attractive and contribute to the overall décor and ambiance of your kitchen.
While most people buy knife blocks for their own use, knife blocks are also commonly given as wedding and holidays gifts. Either way, by choosing the right block for your knives (or your friends) you'll be able to cook while knowing that your tools are completely safe and well taken care of at all times.
Take a look at our top picks from the GLOBAL Knife Block Range below.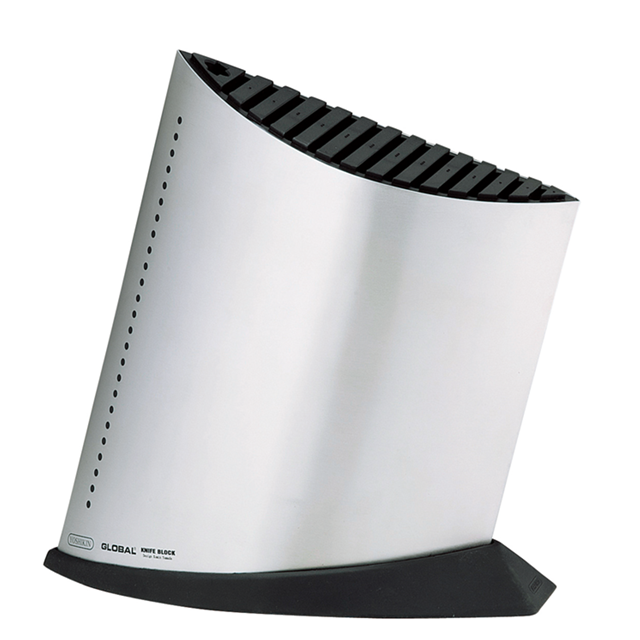 GLOBAL KNIFE BLOCK WITH DOTS
One of the best ways to store your GLOBAL knives is in a countertop block. This knife block has slots for 8 knives. It is made from 18/10 stainless steel and features non-slip bases. The knife block not only looks stylish, but also offers a safe and easy storage solution whilst helping to protect and retain the sharpness of the knives. *Qualifies for free shipping. Get yours today. Click the image to go to the GLOBAL webstore.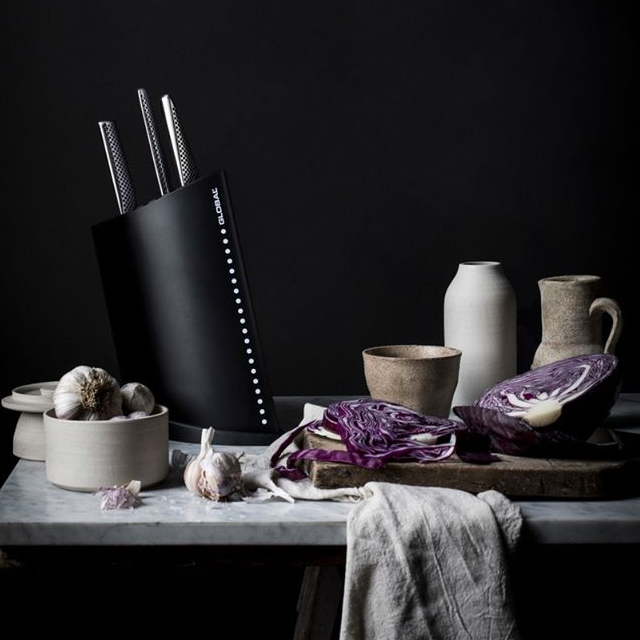 GLOBAL SHIP SHAPE UNIVERSAL KNIFE BLOCK
This amazing knife block set is featured in MasterChef Australia! The Ship Shape comes in a sleek black finish and has 10 slots to fit any kitchen knife (hopefully they're GLOBALs). Of the 10 slots, 1 slot securely holds your ceramic or diamond sharpener. Beautiful knives deserve a beautiful knife block. Click the image to find out more about this knife block and to go to the GLOBAL webstore.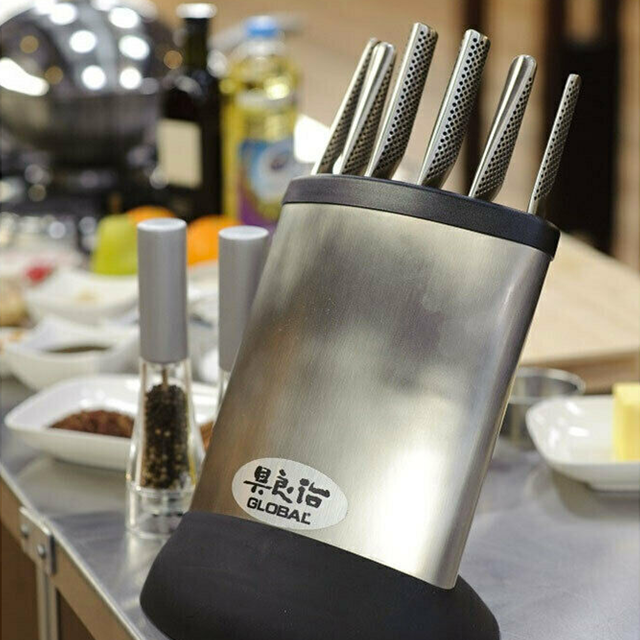 GLOBAL SYNERGY KNIFE BLOCK
The Synergy Knife Block is perfect for both the novice and seasoned chef. It features 6 slots for both small and large knives. Our suggested range for this storage block would be the GLOBAL G-2; G-9,GS-3,GS-5,GSF-15,GSF-22. *Qualifies for free shipping. Sharpen up your kitchen today.
Knife blocks are not only designed for storage, but they're also made for convenience and safety. In our opinion, your kitchen shouldn't be without one.